Donald Trump Jr.'s new book "Triggered: How the Left Thrives on Hate and Wants to Silence Us" have been given a comedy make over.
Comedy group TGL (The Good Liars) replaced the dust jackets of Donald Trump JR's book with a fake title reading: "Daddy, Please Love Me: How Everything I Do Is Try To Earn My Father's Love."
The duo of artists and comedians took credit for the stunt days after the president's eldest son released the book saying they placed a book jacket on copies at a New York Barnes and Noble location "to make it a little more honest."
"You're welcome, Junior!" a caption read.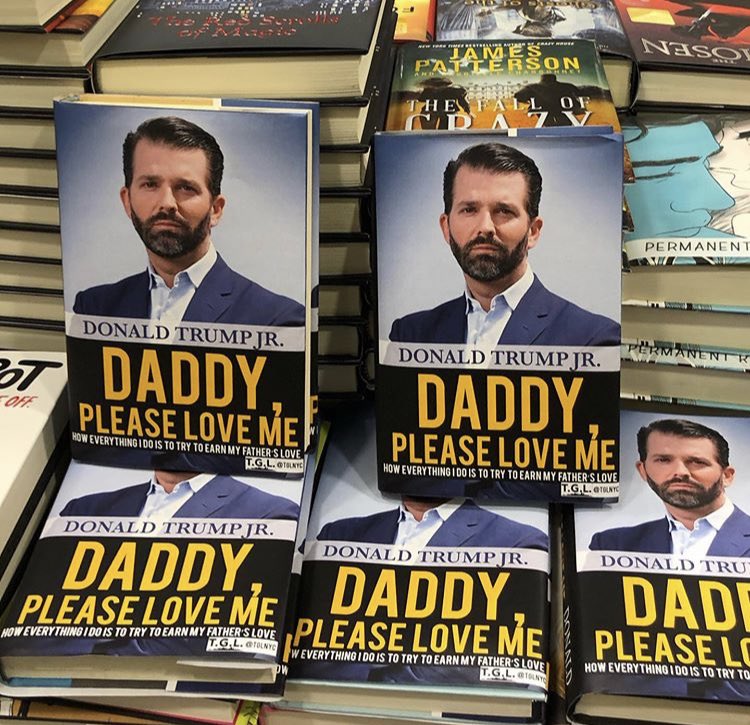 TGL, aka Jason Selvig and Davram Stiefler, are also the cheeky pair who placed a satirical ad on an NYC subway earlier this year aimed at President Trump's personal attorney Rudy Giuliani.
The ad read, "Need A Lawyer? Call Crazy Rudy" and declared that Giuliani "has no shame" and "will work for free!"
Speaking on their latest stunt they told The Hill, "We did the stunt to reach Don Jr. It's really sad to watch him try to earn his father's love so publicly. It's pretty obvious that President Trump doesn't love him, and Junior's attempts to get his father's attention — dressing up as his father for Halloween and marrying a Fox News personality that looks conspicuously like Melania — have been really hard to watch."
Mocking the book is easy, as pointed out by CREW's Robert Maguire: "In his new book, Don Jr writes about a visit to Arlington National Cemetery before his father's inauguration and compares the sacrifice of the soldiers buried there to 'all the sacrifices we'd have to make to help my father succeed.' "
In his new book, Don Jr writes about a visit to Arlington National Cemetery before his father's inauguration and compares the sacrifice of the soldiers buried there to "all the sacrifices we'd have to make to help my father succeed." https://t.co/CpgDtYdSD4 pic.twitter.com/gYOhlGsDWR

— Robert Maguire (@RobertMaguire_) 7 November 2019