In the great tradition of Paris is Burning: the library is open! Because reading is what? FUNDAMENTAL!
Fans of RuPaul's Drag Race know this all too well, of course, but did they know that some of their favourite queens have written books to guide fans on their journey to queendom, make up artistry, or other badassery?
While most of the ex-RuPaul's Drag Race queens released music, some of them decided to help us average Joes and Josephines to live our best lives, and release our inner drag queen divas. All you need is an attitude, a HUGE dollop of humour, and the inspiration to be the queen you are.
Here is a selection of some of the best books by RuPaul's Drag Race queens and divas, picked especially for you.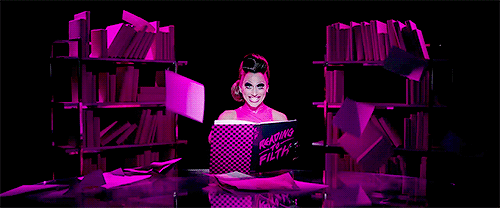 "As someone who has deconstructed life's hilarious facade, RuPaul has broken 'the fourth wall' to expand on the concept of mind, body, and spirit. This unique perspective has allowed RuPaul to break the shackles of self-imposed limitations, but reader beware, this is a daily practice that requires diligence and touchstones to keep you walking in the sunshine of the spirit. Once you're willing to look beyond the identity that was given to you, a hidden world of possibilities will open its doors.
That is RuPaul's secret for success, not only in show business, but in all aspects of life, especially in navigating the emotional landmines that inhibit most sweet, sensitive souls."
"When it comes to insult comics, Bianca Del Rio is in a class by herself. Fierce, funny, and fabulous – a would-be love child sired by John Waters and birthed by Joan Rivers – Bianca sandblasted her name in the annals of pop culture on RuPaul's Drag Race. Thanks to her snarky frankness, impeccable comedic timing, and politically incorrect humour, she became the show's breakout star, winning its sixth season.
In Blame It On Bianca Del Rio, Bianca shares her opinions loudly and proudly, offering raucous, hilarious, no-holds-barred commentary on the everyday annoyances, big and small, that colour her world, and make it a living, albeit amusing, hell for anyone who inhabits it. A collection of biting advice filled with vibrant photos from Bianca's twisted universe, Blame It On Bianca Del Rio will shock you and keep you laughing. But be warned: it is not for the faint of heart!"
"Drag superstars Trixie Mattel and Katya have long captivated fans with their stunning looks, onscreen chemistry, and signature wit. In Trixie and Katya's Guide to Modern Womanhood, the pair channel that energy into an old-school etiquette guide for ladies.
In essays, conversations, and how-to sections peppered with hilarious, gorgeous photos, Trixie and Katya will advise readers on beauty and fashion and tackle other vital components of a happy home, such as money, self-love, and friendship; sharing advice and personal stories in high-concept fashion.
Informative, humorous, and heartwarming, Trixie and Katya's Guide to Modern Womanhood is the book that their fans have been waiting for."
This maybe the closest you will get to dressing a drag queen!
"The book includes 12 illustrated punch-out paper dolls of the winning contestants from the first 8 seasons, and 4 Miss Congenialities from the first 8 seasons of RuPaul's Drag Race and RuPaul's Drag Race Allstars.
8 Winners: BeBe Zahara Benet, Tyra Sanchez, Raja, Sharon Needles, Jinkx Monsoon, Bianca Del Rio, Violet Chachki, and Bob the Drag Queen.
4 Miss Congeniality: Latrice Royale (season 4 and All Stars), Ivy Winters (season 5), Ben De La Creme (season 6), and Katya (season 7 and All Stars). With introduction by RuPaul and humorous quotes from RuPaul and Michelle Visage."
"Suck Less: Where There's A Willam, There's a Way is a raunchy lifestyle guide. It gives comedic yet usable lessons and real world life-hacks that will help you be a cooler "you" and probably make Satan himself wanna stand up and applaud you!
Inside this book you'll learn makeup tips (like how to fake a black eye for family court), travel tips (where the hookers who will let you take pics with them in Amsterdam are), party tips (i.e. what liquor is okay to rectally buttchug) and so much more from the only contestant to ever get kicked off RuPaul's Drag Race!"
"Michelle Visage is not your average diva. Powerful, positive, and polished, this diva's not only glamorous, she's a savvy businesswoman with serious credentials who works her tail off. From her days vogueing in the downtown Manhattan clubs in the 90s to her successful career in radio and her ultimate cult status as a judge on RuPaul's Drag Race, Michelle has achieved her dreams and then some!
In The Diva Rules, Visage shares her rules and advice for living life to the fullest and finding success no matter the hand you're dealt. With her no-nonsense style and super sassy voice, Michelle tells readers to Keep Your Shit Together, Give Good Face, and Be Thankful You're a Misfit, in addition to 22 other invaluable life lessons on finding your power and sparkling your way to the top."
The niece of the President of the United States is set to publish a tell-all…