The Harry Potter series has become a classic since its conception in the 1990s and fans today still write fan-fiction and create art inspired by the stories and characters.
One fan came up with what he thinks would be each main character's favourite music or band, and put them all in one hilarious Twitter thread.
Some bands may be new to anyone outside the UK, such as two of Hagrid's favourites- The Wurzels, or Slade- but others may be recognisable, and all are available to listen to on your music app.
If you can think of any more for other characters, let us know or head over to Adam Larter's Twitter and get involved!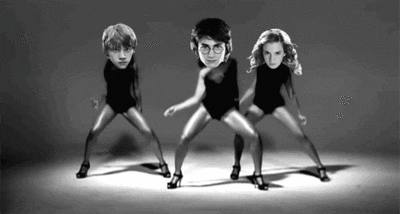 The music taste of the main characters in the Harry Potter series. A thread.

Harry:
"I like all music really"
Tells everyone his favourite song is Hallelujah by Jeff Buckley and is oblivious to it being a cover.
Holding out for Kaiser Chiefs to headline glasto. pic.twitter.com/vE6NCrGmzQ

— Adam Larter (@lartymcparty) January 11, 2021
Ron:

Collected all the CDs Kerrang used to put out. Reel Big Fish, Less Than Jake, Streetlight Manifesto.

Has a big baggy Greenday hoody from Camden Market. pic.twitter.com/vnIT9NMx1F

— Adam Larter (@lartymcparty) January 11, 2021
Hermione:

Listens to Classic FM in the car but if she has the house to herself its between Regina Spektor and the Hamilton Soundtrack.
"Its really fun and you can learn a lot" pic.twitter.com/YWl6oiRGfa

— Adam Larter (@lartymcparty) January 11, 2021
Draco:

Tells everyone he listens to Jay-Z, Dilated Peoples and Wu-Tang but secretly loves the classic posh-white-boy stuff - Coldplay, Mumford and Sons, Dave Matthews Band. pic.twitter.com/NjlKlZdRIp

— Adam Larter (@lartymcparty) January 11, 2021
Hagrid:

"I likes anything i can dance to", got big into glam rock and even had some big old sideburns. Favourite bands are Slade, Status Quo but he also has a soft-spot for the Wurzels. pic.twitter.com/BsrJf6eSrM

— Adam Larter (@lartymcparty) January 11, 2021
Sirius Black

He's a proper Drowned In Sound music snob. Loves Slint, Pavement, Sleater Kinney and goes to bed in an old Meat Puppets t-shirt. pic.twitter.com/molZyYLhLf

— Adam Larter (@lartymcparty) January 11, 2021
Professor McGonagall

Got big into Northern Soul and can still pull some good moves when she needs to. Favourite song is The Snake by Al Wilson but hasn't been so keen on it since the Chamber of Secrets was opened. pic.twitter.com/m1cvfwRxYX

— Adam Larter (@lartymcparty) January 11, 2021
Remus Lupin

If you ask him what he likes he mumbles something about bands you've never heard of and maybe mentions Ringo Starr. He likes a lot of Frank Zappa, Captain Beefheart and Ivor Cutler. pic.twitter.com/Iank5jKgOq

— Adam Larter (@lartymcparty) January 11, 2021
Neville Longbottom

Nev got massively into the Libertines and for a while thought that Babyshambles could be good. Now listens to a lot of St Vincent, Bikini Kill "rock music tends to have a male bias, I say there should be more female headliners at festivals" good on ya Nev. pic.twitter.com/HmDb6UAblm

— Adam Larter (@lartymcparty) January 11, 2021
The books of Dr. Seuss are full of colourful nonsensical characters and fun rhyming stories…